The Ukrainian Lyatoshinsky-Trio will perform works by Valentin Silvestrov, Gernot Schedlberger, Borys Lyatoshinsky, Arnold Schönberg, Ming Wang and Yevhen Stankovych in Graz (J. J. Fux-Konservatorium, 06.06.) and in Vienna (Arnold Schoenberg Center, 07.06.). All donations made on occasion of both concerts will be given to the Kharkiv Charitable Community Foundation «TOLOKA». We interviewed Roman Lopatynskyi, pianist of the Lyatoshinsky-Trio, talking with him about a concert programme being performed in very difficult times.
The Lyatoshinsky Trio is named after the Ukrainian composer Borys Lyatoshinsky who lived between 1895 and 1968. His music is quite unknown hereabouts. What made you choose him as the name giver for your ensemble?
Roman Lopatynskyi: Borys Lyatoshynskyi is a famous composer in Ukraine, also being one of the most important personalities that were teaching composition in my country. A very important generation of composers commenced with him. His students have become famous composers, they continue the tradition of the Ukrainian school of composition. Some of its leading exponents are Leonid Grabovsky, Valentin Silvestrov, and Yevgen Stankovych. We decided to adopt Lyatoshinsky's name because it is so important for the Ukrainian culture. It needs to be made known to the musical world.
The trio op. 41 by Lyatoshinsky was written in 1942, when he was a teacher at the Moscow Conservatory. We all are well aware of the atrocious events that happened at that time. Listening to this piece for the first time, we might easily sense a somewhat rhapsodic melancholy based on an extended, yet quite traditional tonal harmony. However, it is difficult or even impossible to conclude from the sounds that this music was written in such a terrible period (in contrast to pieces like Penderecki's «Threnos» or perhaps Shostakovich's String Quartet No. 8). Would you expect music to be responsive to whatever is happening in the world outside?
Roman Lopatynskyi: I think music affects all of us. It is a very strong magic because there are no words to describe it—but there is a combination of sounds that you can feel in different ways. Music can change the world. It is a permanent state.
I think music requires us to be honest. Our desires, our thoughts, our work, all of this must come from one's heart. As a performer, one must understand what is happening in the world. Yet one should be able to distinguish which impressions are to be transposed into the music, and which should rather be not. I do not have any special techniques, I just tell different stories to people through the sound of music.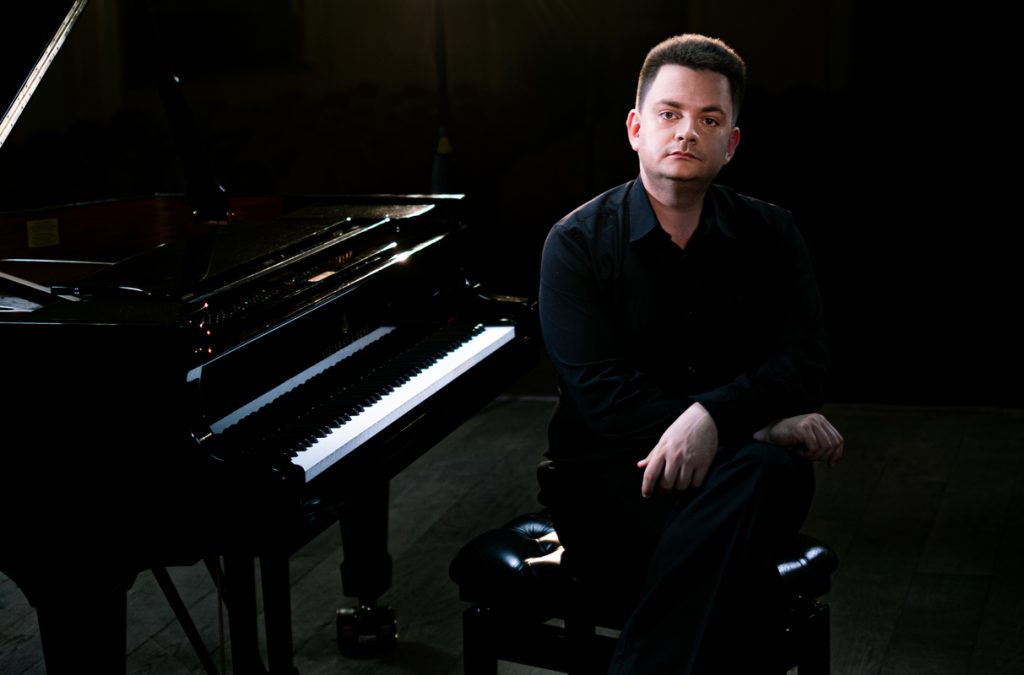 Our Concerts for Ukraine are charity events—all donations will be forwarded to the Kharkiv Charitable Community Foundation «TOLOKA». Aside from this purpose: is music or performing a programme like this able to convey hope or even trust in these dark times?
Roman Lopatynskyi: Any music gives us hope at any time. And this one is no exception. As long as music is being played, there will always be hope.
Let's turn back to the individual works and regard Ming Wang's «Traumfänger» (en: «dreamcatcher»). Looking at the score, I see a contrasty piece, held together by a well-considered harmonical structure and framed by a very ambient introduction. Did you as a pianist encounter any difficulties with playing techniques which are untypical for the piano, or in coordination with the string instruments?
Roman Lopatynskyi: For me, working with modern music is always an experiment, a personal experiment in how to master hitherto unknown difficulties. I believe that the main issue for any music is time. If a piece of music continues to be convincingly stringent even after a while, it means that both composer and the performer were able to support each other and have worked together very well. I feel this is really important. Ultimately, it is necessary to consider that each listener perceives music individually. Can we convey our thoughts and ideas? We will only find out after the concert.
«Übermalung 1» (en: «overpainting 1») by Gernot Schedlberger seems to be a completely different work compared to the other pieces. He understands his composition as an overpainting—on the analogy of the visual arts—of the initial six bars of Joseph Haydn's Symphony No. 102, a passage of ca. 20 seconds that is extended throughout the duration of his piece. How recognizable was the «prototype» to you as a performer? Will the trio highlight the Haydn reference, or rather focus on the «overpainting»?
Roman Lopatynskyi: When playing the piece, I feel that I faintly hear something from Haydn's symphony no. 102 that is far away, but does come to my senses. This piece is constantly moving forward, recolouring its sounds, chords and combinations. It is very well written for its performers. I can really feel its structures. The composer presented his ideas quite clearly. We will try to convey them to the audience.
It is hard for me to talk about music in general. Saying something about a piece always turns out more accurate after having performed it publicly for the first time. We need our individual emotions from the stage in order to do so. We can talk about the pieces more easily after the concert.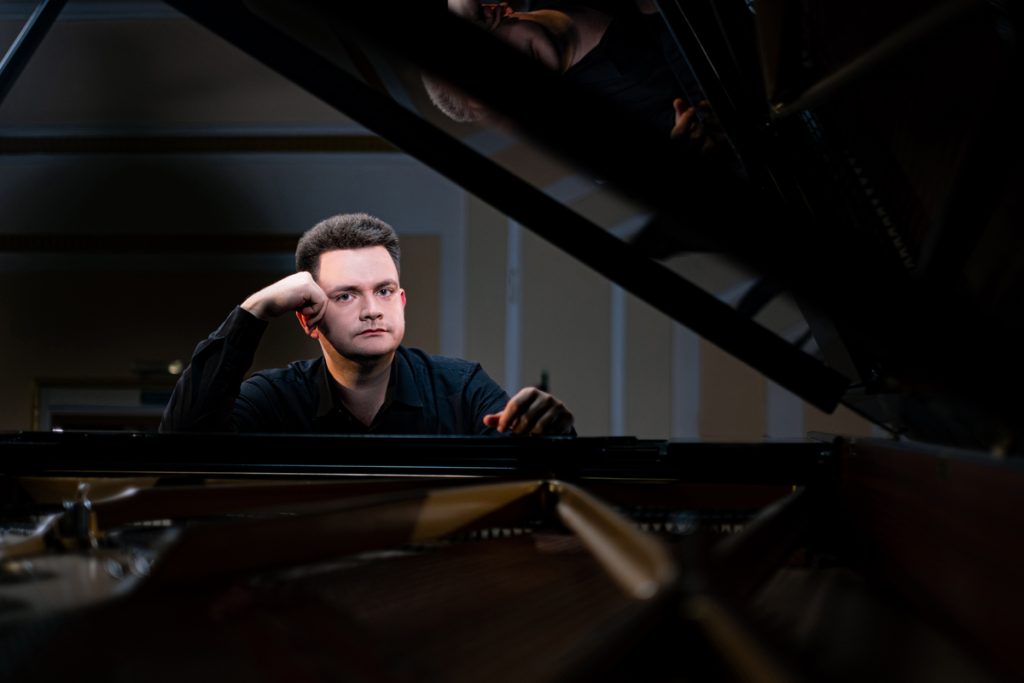 Finally, we will have the pleasure of getting to know pieces by the internationally renowned Ukrainian composers Valentin Silvestrov and Yevhen Stankovych. Would you tell us what made you choose these works and what we should be looking forward to when listening to them?
Roman Lopatynskyi: I think it is important to show who the students of Lyatoshinsky were. Silvestrov and Stankovich are amongst their most prominent representatives. Stankovich's work is very profound, very intimate, like a world within us. At the same time, the music is passionate and romantic in some places.
Silvestrov's music seems to speak about other worlds. It reminds us of Mozart's eternal genius. Listening to Silvestrov, you can become immersed in the sounds, wishing to remain there forever.
I hope these concerts will be a great experience for all of us, as it is essential to present music from Ukraine right now, and to associate it with contemporary music from other European countries, starting with Austria.
Thank you very much for the interview.
Roman Lopatynskyi: Thanks for your time and see you soon!
Roman Lopatynskyi (* 1993 in Kiev) is a laureate of over 20 international piano competitions, such as the Hamamatsu International Piano Competition and the Busoni Competition in Bolzano. He is a regular guest in renowned concert halls such as the Ginza Hall in Tokyo and the Steinway Hall in New York. Lopatynskyi worked together with the National Symphony Orchestra and the National Philharmonic of Ukraine, the Tokyo Symphony Orchestra and the German Radio Philharmonic Saarbrücken amongst others.
Edited by Morgana Petrik and Christoph Renhart.