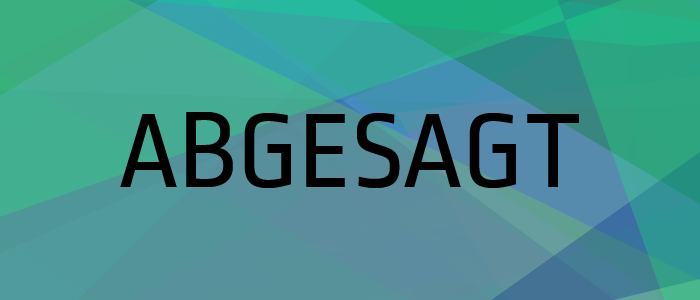 Abgesagt • Ersatztermin wird bekannt gegeben
CROSSTALKS ist eine 2018 von der ÖGZM ins Leben gerufene "Elektronik plus" – Konzertreihe. Im Rahmen der dritten Ausgabe präsentieren Peter Venus und Manuel Alcaraz Clemente neue und neueste Werke für Elektronik und Schlagwerk. Ein weiterer Interpret des Abends ist Artemi Giotis robotic percussionist, der mit dem menschlichen Schlagwerker in musikalische Interaktion tritt.
KULTUM, ImCubus
8020 Graz, Mariahilfplatz 3
Interpret_innen:
Manuel Alcaraz Clemente . Schlagwerk
Peter Venus . Live-Elektronik, Klangregie
Programm:
Marko Ciciliani: Gunned Down (with spoiler) for live-electronics and video (2020)
Artemi Gioti: Imitation game (2018) for human and robotic percussionist
David Pirrò / Luc Döbereiner: Neues Werk (2020) für Schlagwerk und Live-Elektronik
Reinhold Schinwald: Aufzeichnungen einer Blinden (2020; Uraufführung der Fassung für Schlagwerk und Elektronik)
Tuğba Uçar: Neues Werk (2020) für Schlagwerk, Live-Elektronik und Zuspielung
Karten
Eintritt: EUR 10 (regulär) / EUR 5 (ermäßigt)
Kartenverkauf an der Abendkasse
Ermäßigter Eintritt für Mitglieder der ÖGZM – um rechtzeitige Reservierung unter christoph.renhart[at]kultum.at wird ersucht.
Freier Eintritt für Studierende des IEM gegen Vorweis des Studierendenausweises.
Eine Veranstaltung der ÖGZM in Kooperation mit
Kulturzentrum bei den Minoriten Graz (kultum) im Rahmen von tonraum 2020
Hinweis: Im Anschluss an CROSSTALKS (ca. 21.00 Uhr) findet im Cubus
das Konzert digital:analog (Veranstalter: IEM) statt. Eintritt frei!
---